JFSLA Young Leaders Host Annual Tools for School Drive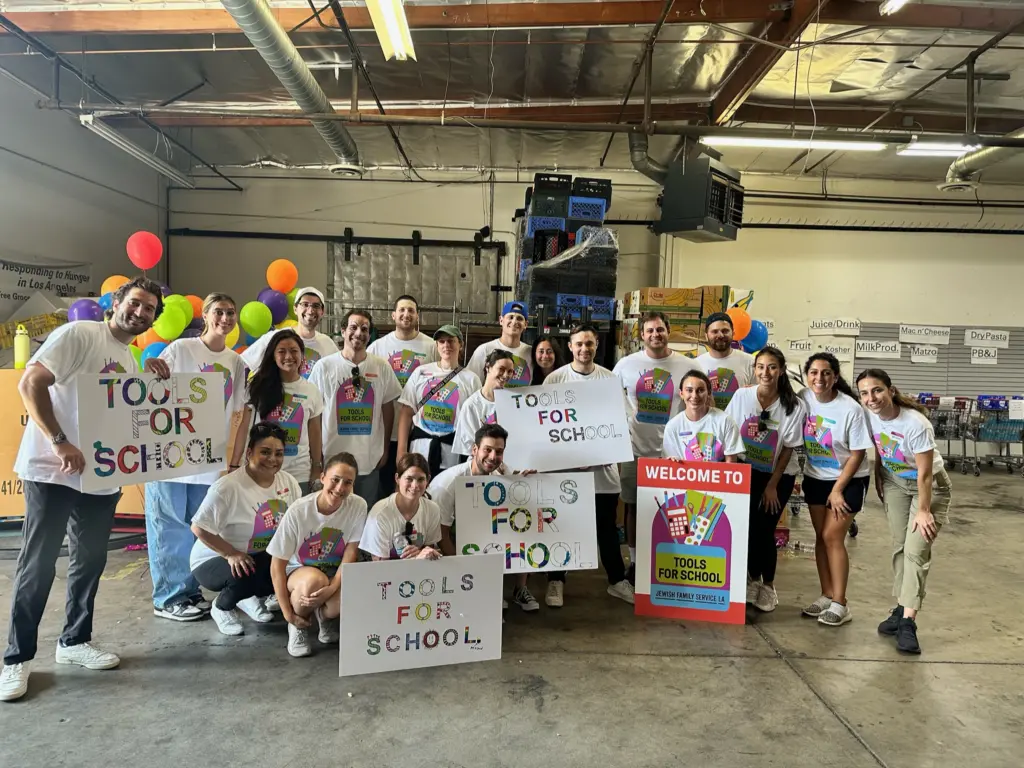 JFSLA's Young Leaders group is a dynamic and diverse group of community-minded individuals who are committed to furthering JFSLA's mission through volunteerism, philanthropy, and social events. On June 31st, JFSLA's Young Leaders provided free backpacks and school supplies to more than 200 underserved and at-risk children at their Annual Tools for School event. This year, Tools for School was highly anticipated by JFSLA clients and families in the community as it was the first in-person event since the pandemic.
Excited to be back in person once again, families rushed to form a line outside of JFSLA's SOVA Community Food & Resource Program Valley Warehouse before the start of the event. "It was so exciting to finally be able to hold our Tools for School event back in person," said Zach Gingold, JFSLA's Young Leaders Chair. "We had over 30 incredible Young Leaders volunteer on both Saturday and Sunday, for which we are extremely grateful. The response we received from families and children was overwhelmingly positive. Everywhere you looked around that day, all you saw was the smiles on the faces of parents and children."
The Young Leaders arrived early on Sunday to set up. Balloons and colorful tablecloths were placed at every station. Children could pick their choice of backpack, folders, binders, erasers, pencils, notebooks, markers, and other essential items they need to succeed in school. Families received free pizza, popcorn, fruit, and snow cones to enjoy. The Young Leaders prepared fun activities for children, such as coloring and face painting. After the event, the Young Leaders prepared nearly 300 backpacks with school supplies which would later be distributed to children at JFSLA's SOVA Community Food & Resource Program and JFS Hope Domestic Violence Services.
The Young Leaders fundraise annually to provide local students with school supplies. "Funds for this year's Tools for School event came from a variety of sources including our quarterly holiday parties and amazing JFS donors," said Zach. "By supporting the Young Leaders, you are supporting our initiative of motivating local students every year to succeed in their upcoming school year, and alleviating families who may not have the means to go back to school shopping for their children."
If you are interested in contributing to the Tools for School fund, you can donate at support.jfsla.org/toolsforschool. If you are between the ages of 21 and 40 and are interested in joining the Young Leaders group, reach out to JFSLAYL@gmail.com for more information.