Heather Angel-Collin, a Shining Light for Survivors and Seniors, Retires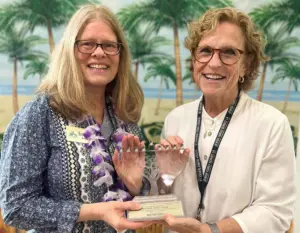 Heather Angel-Collin, JFSLA's Director of Survivors of the Holocaust Program and Valley Storefront Community Resource Center, is retiring after 35 years. "Throughout the years, I really enjoyed being a part of the JFSLA family," said Heather. "The work always felt meaningful because of the difference our services make in the lives of clients."
Heather began working at JFSLA in 1988 as a meal service coordinator, making home visits to seniors and people with disabilities. While working part time at JFSLA, Heather received a Master's Degree in social work. After graduating, Heather became a full-time social worker for JFSLA's former program Linkages, a case management program for older adults and people with disabilities. After five years as a social worker, Heather became the supervisor for the Linkages program. A few years later she was promoted to Director.
In the early 2000s, when the funding for the Linkages program ended, Heather took over as the Director of the Assisted Living Waiver Program (ALWP), a JFSLA program that provides case management and support to older adults and people with disabilities who are residing in an assisted living setting. Simultaneously, Heather also became the Director of the Survivors of the Holocaust Program and the Valley Storefront Community Resource Center. As the agency and the ALWP grew, Heather remained the Director of the Survivors of the Holocaust Program and the Valley Storefront Community Resource Center for more than 20 years.
To anyone who walked into the Valley Storefront Community Resource Center, it was obvious Heather had a passion for working closely with older adults. "Growing up, I had a very close relationship with my grandparents, especially my grandmother who started one of the first senior citizens clubs in Los Angeles in the 1960's," said Heather. "I spent time with her and her senior club growing up, so I've always had a special place in my heart for older adults."
Following in the footsteps of her grandmother, Heather helped manage the services and activities at the Valley Storefront Community Resource Center where information, referrals, and case management were provided to hundreds of seniors. Heather made the center feel like home for hundreds of seniors. She created meaningful relationships with any client, staff, volunteer, or social worker who walked through the door.
Throughout her tenure, Heather and her team of social workers provided more than 1,000 survivors of the Holocaust with caregiver assistance, supportive resources, emergency financial assistance, and social connection through the Café Europa program. Heather and her team were able to provide additional home care hours and services to survivors through grants, and they grew JFSLA's Survivors of the Holocaust program throughout the years to serve more people. In addition, Heather oversaw the Holocaust Advisory Board, a group of mostly survivors, that would discuss updates, events, and funding.
Heather's greatest joy was connecting with people at Café Europa, JFSLA's weekly social program for survivors, and creating the caring community they deserve. When the pandemic began, Heather helped survivors shift online so they could connect with their community from home. Although the shift was difficult, hosting Café Europa online was essential to checking in on the health of survivors and ensuring they had the tools to overcome such a challenging situation.
"It was an honor and privilege to work with survivors of the Holocaust," said Heather. "They're an incredible testament to the human ability of survival and they deserve our utmost respect." As Heather leaves JFSLA, she is happy to have had the opportunity to create various everlasting relationships with the survivors.
Heather is looking forward to retirement to spend more time with friends and family. She is hoping to travel and can't wait to enjoy her coffee in the morning with the company of her cats. JFSLA is grateful for Heather's compassionate leadership, and for being a beacon of light for seniors and survivors of the Holocaust throughout Los Angeles.