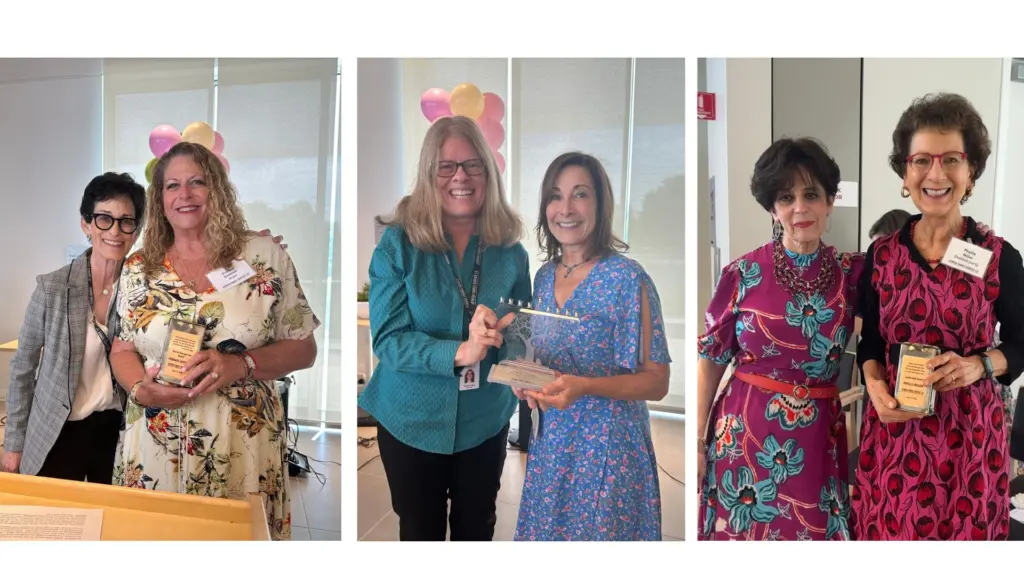 On June 22, JFSLA hosted its annual Volunteer Appreciation Brunch, presenting awards to outstanding volunteers and celebrating the essential service volunteers provide to JFSLA programs and clients.
"This was our first in-person Volunteer Appreciation event since the pandemic," said Joyce Williams, JFSLA Director of Volunteers and Training. "There was a great deal of excitement hosting the event at the JFS Gunther-Hirsh Family Center for the first time. One of many highlights for me was meeting many volunteers in person for the first time after connecting with them by email and phone only. It was a lovely event where JFSLA staff connected with volunteers outside of JFSLA programs."
More than 70 people attended the event, including JFSLA Board members, staff, and volunteers. Just shy of her 99th birthday, Charlotte Kamenir, JFSLA Board member and longtime volunteer, also attended the event and gave a special message to the honorees and volunteers. Charlotte started volunteering at JFSLA in the early 1980's as a case aid. The Charlotte Kamenir Volunteer of Distinction Award was named in her honor.
"Charlotte exemplifies what it means to be a JFSLA volunteer, and she has always been key to our volunteering events," said Joyce. "The week before the event she notified us that she had just got out of the hospital and there was a chance she wouldn't be able to attend, so seeing her there was very special." Charlotte received a standing ovation and congratulated all the honorees.
The Special Recognition Award was presented to Frankie Gottlieb, who has been a volunteer at JFSLA for over 6 years. Each week, Frankie delivers groceries and home-baked desserts to the residents at JFS Hope's domestic violence shelters.  Frankie said, "I feel very humbled. My biggest joy is walking into the shelter with a bag of 4-5 dozen cookies and seeing the faces of children light up as they ask me what kind of cookies I baked this week."
The Leadership Award was presented to Phyllis Miller. In 2011, Phyllis witnessed firsthand the positive influence of JFSLA programs in the life of her father, Sal Lowi, of blessed memory. For the last 10 years, Phyllis has volunteered at the Valley Storefront Community Resource Center's Shabbat parties, helping to bring joy to dozens of seniors each week. Phyllis reflected on the event saying, "When I went to the Shabbat party the next day, I thanked all the attendees for allowing me to volunteer at the weekly event and that they, in fact, deserve credit for the award as well, and once again my comments were greeted with applause. It doesn't get better than that."  
The Charlotte Kamenir Volunteer of Distinction Award was presented to Andrea de Lange, who has been volunteering with survivors of the Holocaust at the Valley Storefront Community Resource Center's Café Europa program. During the pandemic, she made calls to survivors and hosted a weekly Zoom meeting called "Schmooze with Andrea." She became close with a survivor named Maurice, of blessed memory, and spoke at his funeral. She has also helped deliver Shabbat meals and Purim treats to survivors.
"I was basking in all the wonderful things Heather Angel-Collin (JFSLA Director of Survivors of the Holocaust Program and Valley Storefront Community Resource Center) had just said about me in her speech," said Andrea. "As I was listening to her, I was surrounded by loved ones, friends, family, and people I've known for 10 years through my volunteering. It was an incredible feeling being the recipient of so much appreciation."
"All our volunteers are worthy of winning an award," said Joyce. "We simply couldn't do the work that we do for the community without them." To learn more about volunteer opportunities, please visit jfsla.org/volunteer.