HaMercaz Fosters Community for Families of Children of All Ages with Special Needs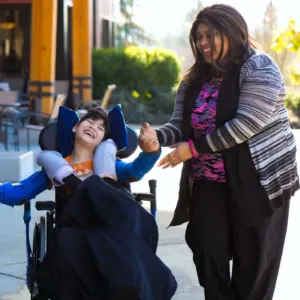 HaMercaz, funded by the Jewish Federation of Greater Los Angeles, provides families of children, teens, and adults with special needs and diverse abilities with ongoing assistance, information and referrals, advocacy, counseling, support groups, parent workshops, social gatherings, and more. In the last year, HaMercaz provided more than 300 families and individuals with special needs with support.
During the pandemic, most JFSLA programs shifted online, including HaMercaz. Providing services online has made it easier for families throughout Los Angeles to join HaMercaz's support groups and build connections with other families. In addition, HaMercaz provides families with online workshops on diverse topics such as "Pathways to Independence for Teens and Adults with Special Needs" and "Navigating Mental Health Systems from a Special Needs Perspective."
"HaMercaz's online support programming has been really successful," said Sarah Blitzstein, JFSLA Program Coordinator of HaMercaz. "We have families coming together on Zoom from all over Los Angeles, from the South Bay to Pasadena to Conejo Valley. Meeting online, especially during the pandemic, provided families a way to connect and find support. Some parents created WhatsApp group chats, others started to see each other outside of our support groups, and many expressed wanting to meet in person."
HaMercaz support groups have recently begun to meet in person. On July 2nd, HaMercaz held a play date for families in the Early Intervention group to come together in a parent's backyard and socialize. One mother who attended said, "Today was so special. Our group of moms have become so close from our weekly meetings. Thank you to JFSLA for the delicious food, fun activities, and for facilitating such meaningful relationships."
"Families may sometimes feel isolated when they have a child with special needs and diverse abilities," said Sarah Blitzstein. "HaMercaz gives families an opportunity to socialize with other parents and families who understand the attention a special needs child may require. It gives families a safe space where they don't have to explain anything because the other parents understand."
HaMercaz also works closely with JFSLA's Chaverim program, a socialization group for adults with special needs and diverse abilities, and JFSLA's Supported Volunteer Program, which helps adults with special needs and diverse abilities learn and practice life skills. For more information on JFSLA's special needs programs and services visit, jfsla.org/specialneeds. To learn more about HaMercaz, please call 213-248-1784 or email hamercaz@jfsla.org.