In-person Shabbat Festivities Return to JFSLA Centers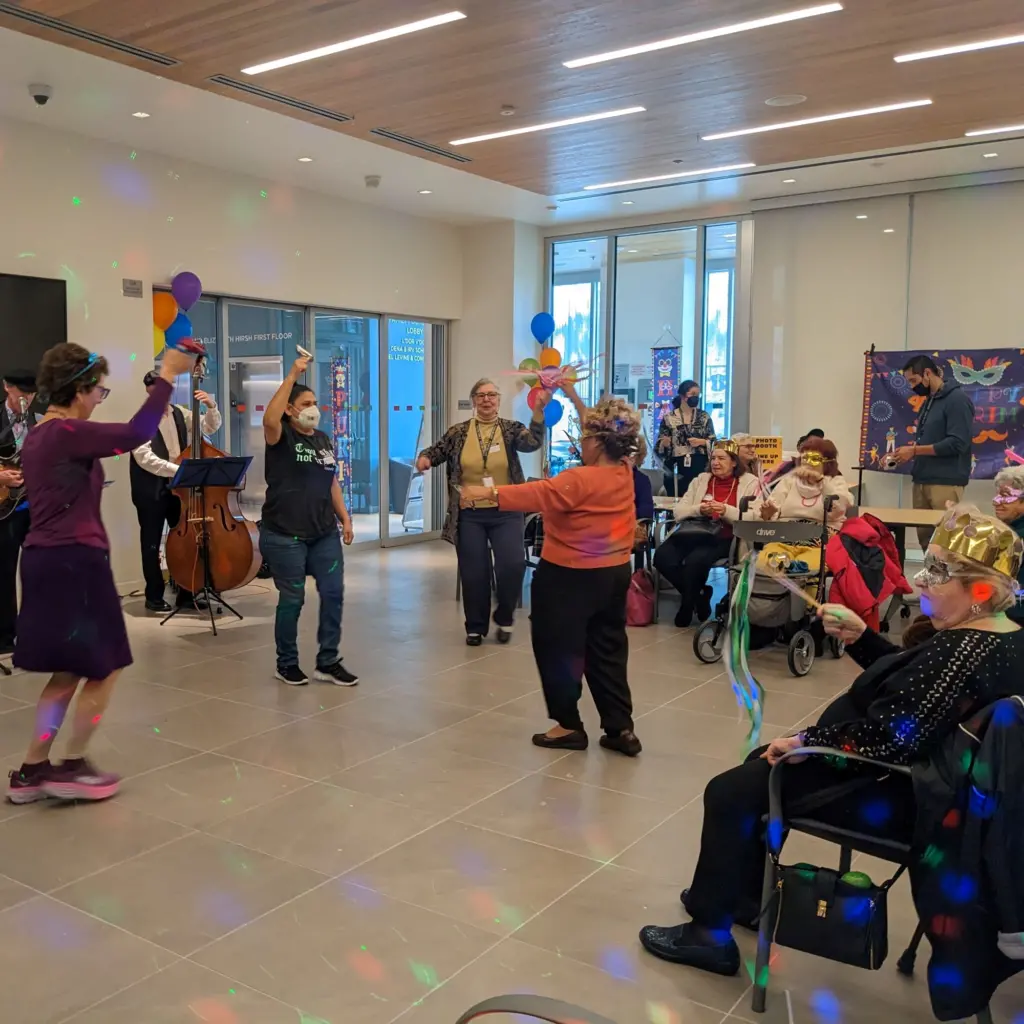 Shabbat festivities are back in action and drawing large crowds every Friday at JFSLA's Valley Storefront Community Resource Center, Jona Goldrich Multipurpose Senior Center, and BAR Center at the Beach.
"At the Valley Storefront, we began the services on June 2nd, and I didn't think a lot of people would attend; however, the first week went really well, then the following weeks we had more and more people attending," said Christine Tafralian, JFSLA Activity Coordinator for the Arts, Wellness, and Engagement (AWE) Program at the Valley Storefront Community Resource Center. On July 7th, more than 40 clients attended the Shabbat celebration. Amalia Polus, a JFSLA volunteer, leads the short Shabbat service and does a blessing over the challah. After the program ends, clients enjoy a meal prepared by JFSLA's Senior Nutrition Program followed by entertainment.
"Clients appreciate having a place where they can connect to their faith and their community," said Christine. "Even our non-Jewish members really enjoy the stories and learning about the festivity. They have so much respect for the Jewish community. These celebrations break down barriers when people sit together and learn about each other's cultures, creating a sense of community."
The success of the gatherings has inspired Christine to think about new activities to add to the Shabbat festvities, such as movies, bingo, and other games. The Shabbat festivities at the Jona Goldrich Multipurpose Center and BAR Center at the Beach have also been filled with music, dancing, and joy. More than 30 members attend each week and enjoy live entertainment. A large, diverse group of members attend, many non-Jewish, who come to enjoy and learn more about Jewish celebrations.
"We work hard to make this place feel like a big family, especially when we gather together to celebrate special moments with our seniors," said Danny Vasquez, JFSLA Activity Coordinator for the AWE Program at Jona Goldrich Multipurpose Center. "With tasty foods and great music, it turns into a real party where everyone feels right at home."
Once a month the AWE Program hosts special celebrations with decorations, treats, and entertainment. Some of the past celebrations include Purim, Valentine's Day, Cinco de Mayo, Passover, and Hawaiian Luau. For more information about JFSLA's Senior Multipurpose Centers and the Arts, Wellness, and Engagement (AWE) Program, please visit jfsla.org/aging.