The 30th Annual JFSLA Gala Was a Night to Remember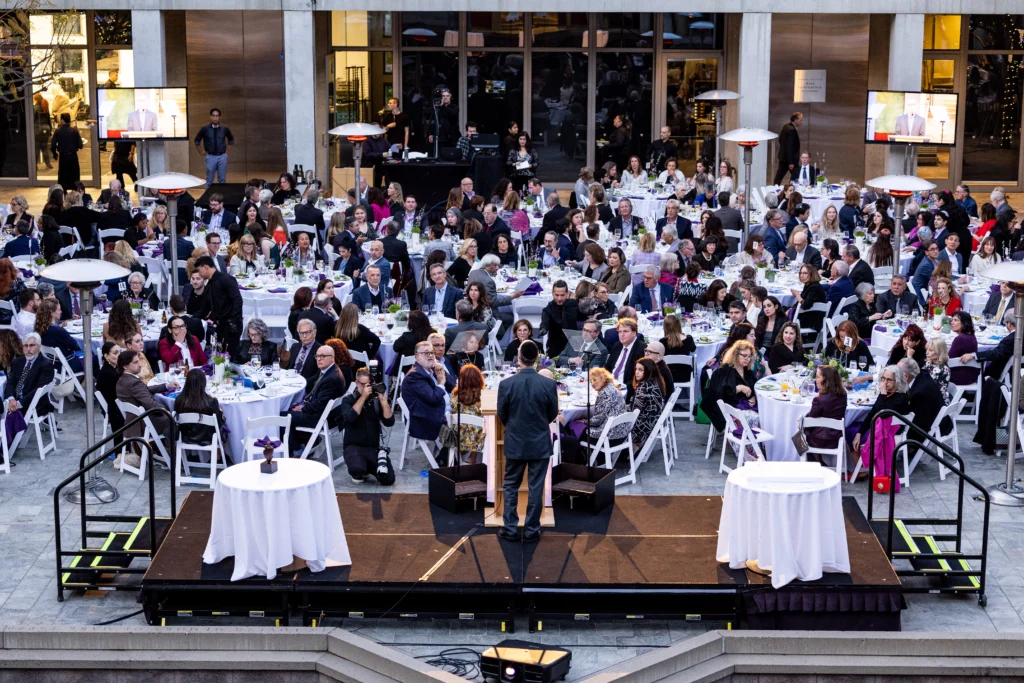 On Wednesday, April 26th, nearly 400 people convened at the Skirball Cultural Center as Jewish Family Service LA hosted its 30th Annual Gala, honoring Nina Tassler with the Susie Forer-Dehrey Spirit of Humanity Award and Sara Cannon with the Anita & Stanley Hirsh Award.
Thanks to the inspiring generosity of those who attended and donated to the Gala, JFSLA raised nearly $1.2 million.
A special recognition and standing ovation were given to JFSLA Executive Vice President Susie Forer-Dehrey, who will be retiring in June. "Susie has been at JFSLA for 37 years," said Tami Stapf, JFS Board Member and Chair of Resource Development. "She started as a social worker and now oversees all the Resource Development, Communications, and Volunteering. But more importantly, she is the embodiment of our great organization."
Honoree Sara Cannon began volunteering at JFSLA by answering calls to JFS Hope's domestic violence crisis hotline and by helping domestic violence survivors who were obtaining restraining orders at court connect with JFS Hope's services. Sara also serves on the JFS Art Committee, which is building a collection of therapeutic and inspiring art for JFSLA's centers.
"I'm very happy to be here to present the Anita & Stanley Hirsh Award to Sara Cannon," said Jennifer Hirsh, daughter of Anita and Stanley, both of blessed memory. "I'm reminded that this award was born from my parents' belief in the tenet of tzedakah – good deeds in action. They believed deeply in Jewish Family Service LA's mission and its ability to affect change in so many people's lives. My mother and father would be pleased to see this award go to Sara. Sara is someone who has put her values into action and leads with her heart."
Sara started as a donor, then became invested in the greater work of JFSLA when touring the JFS facilities and witnessing the impact of services on other people's lives.
"To quote Anne Frank, 'How wonderful it is that nobody need wait a single moment before starting to improve the world.' Jewish Family Service LA is a place where the world is immeasurably improved," said Sara. "I feel truly humbled and privileged that my contribution has been recognized in this wonderful manner."
During her tenure as Chair of JFSLA's Board of Directors, honoree Nina Tassler helped steer the agency through the pandemic, ensuring JFSLA's critical services remained available to all who needed them.
"Nina lives her life seizing every minute to create change, to better the lives of those in our community and embraces the spirit of Tikkun olam, a core value at the heart of JFS," said David Stapf, President of CBS Television Studios, while presenting Nina with her award. "During her tenure, she led JFSLA through the pandemic – clearly one of its most challenging periods in its nearly 170-year history. Being a voice for the voiceless, an activist who put plans and theories into action, Nina inspired and challenged us all to do more."
Nina is an entertainment executive, producer, author, and activist, who was previously at the helm of CBS Entertainment. Serving as Chair since 2004, she led CBS Entertainment to great heights, propelling it to be named America's #1 Network during 12 of the 13 years of her tenure. During her tenure, Nina assembled a senior staff that was 50% female and helped establish CBS Entertainment's first Diversity, Inclusion, and Communications department. She also wrote a book called What I Told My Daughter in which she interviewed female leaders on what lessons they would impart for future generations of empowered women.
"Jewish Family Service is the oldest social service organization in LA, founded in 1854. They are a trusted source of support welcoming all individuals and families, of all ages and identities," said Nina. "As we gather tonight to celebrate the 30th anniversary of the JFS Gala, I must acknowledge the herculean actions of the extraordinary staff and leadership. You truly are the first responders of social services."
JFSLA thanks our donors, staff, and volunteers for helping us provide crucial services to the people of Los Angeles. You are helping us create a more compassionate, kinder LA.
To view the Gala videos, please visit https://www.youtube.com/JFSLA. To support JFSLA, please visit https://www.jfsla.org/ourwork.