Bank of America Volunteers Deliver Passover Meals to Homebound Seniors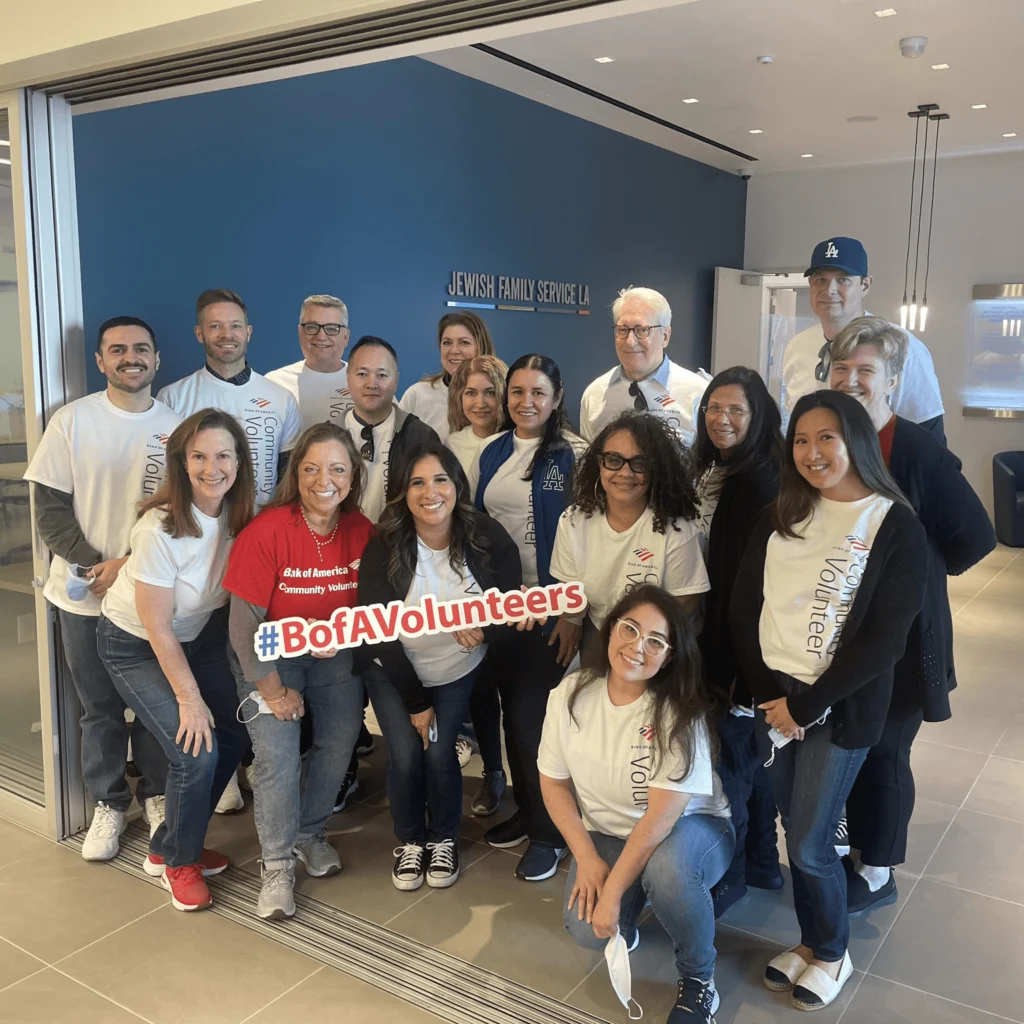 On April 4th, a group of Bank of America employees volunteered with JFSLA's Senior Nutrition Program to deliver Passover seder plates to homebound seniors living in West Hollywood. Judy Rudzki, JFSLA Board member since 2013 and Bank of America Director of Global Transaction Services, organized the volunteer opportunity for her teammates within the bank's Parents & Caregiver Network employee network.
"Serving on the JFSLA Board is important to me as it is an opportunity to help others and ensure the agency continues to provide life-changing services to the Los Angeles community," said Judy Rudzki. "Tikkun olam means "healing the world" in Hebrew and is a saying I try to live by. I am so happy I was able to coordinate a group of Bank of America employee volunteers and at the same time increase awareness of JFSLA programs." 
April is Global Service Month for Bank of America, an internal volunteer program that recognizes employees who give back and encourages enthusiasm for volunteering year-round. "This is the 15-year anniversary of this program," said Judy. "Employees are given paid time off every week to volunteer to a cause important to them and to find out where their passions may lie."
Eighteen Bank of America volunteers gathered at Anita & Stanley's Kosher Café to learn more about the crucial services of JFSLA Senior Nutrition Program. Siri Perlman, JFSLA Director of Senior Nutrition Services; Joyce Williams, JFSLA Director of Volunteers and Training; and Erwin Estrada, JFSLA Home Delivery Meal Supervisor, discussed the impact of the program, the crucial role of the Hirsh Family Kosher Kitchen, and volunteer opportunities throughout the agency.
"We would not be able to offer the breadth of special holiday services without our volunteers," said Siri. "Our clients are excited to meet the volunteers who may be the only faces they see that day. And those smiling faces often make our volunteer's day." The volunteers completed nine delivery routes and delivered meals to 29 homebound seniors.
"Companies support nonprofits in our communities in various ways. While funding is important, employees contributing their time and sharing their experience all demonstrate a commitment to the cause," said Judy. In the past, Bank of America volunteers have also participated in the Young Leaders Tools for Schools events and at the JFSLA SOVA food pantry. "This was our first driving and delivering meals with JFSLA, and it was such a meaningful experience. It is a truly rewarding feeling to be a part of a near 170-year-old organization that was originally founded to support the Jewish community, and today serves LA's diverse community with basic needs for day-to-day survival."
To learn more about our volunteer opportunities, please visit jfsla.org/volunteer.