JFSLA Hosts Community Health Fair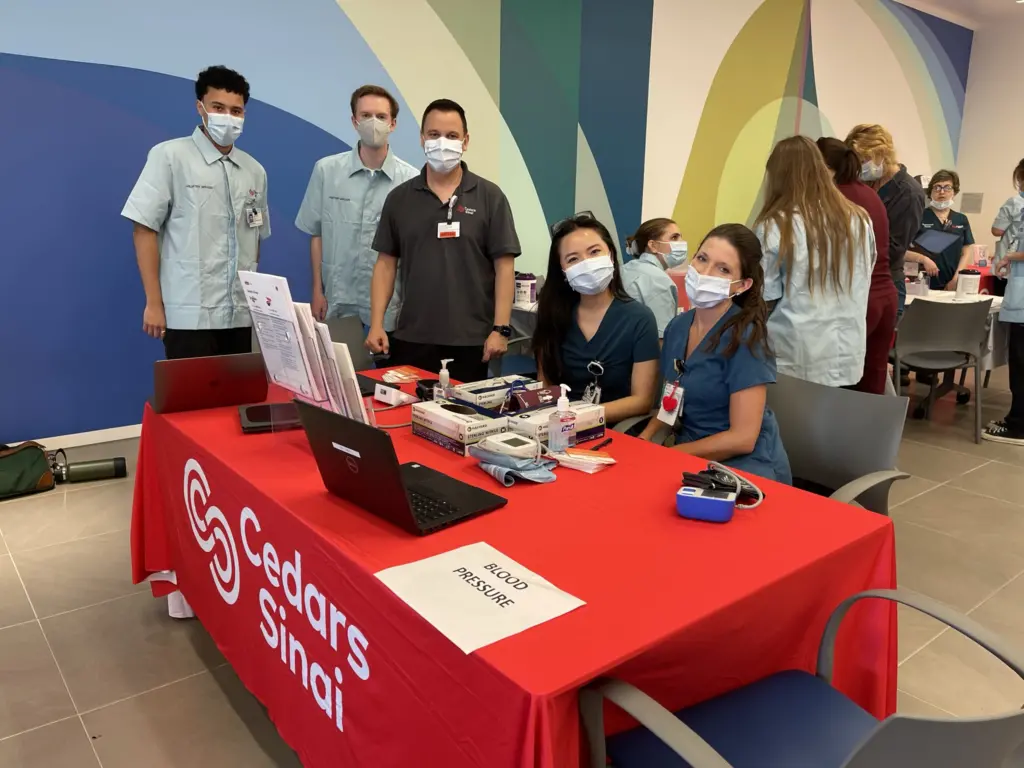 On June 7th, JFSLA hosted a Community Health Fair at the Jona Goldrich Multipurpose Center in partnership with Cedars-Sinai Community Health Improvement to offer free health screenings and health and wellness education to members of the public.
"Our partnered community health fair turned out to be an extraordinary experience," said Jonathan Vickburg, Associate Director of Community Health Improvement at Cedars-Sinai. "We served over 50 community participants by providing blood pressure, cholesterol and blood glucose screenings, as well as education on osteoporosis, breast cancer, pharmacy assistance and a variety of other topics. We are immensely grateful for the partnership and the opportunity to continue to make an impact and foster well-being within our community."  
Community members were also provided with hearing screenings, education on stroke awareness, emergency preparedness, Alzheimer's disease and memory disorders, and a JFSLA booth to help connect the community with available services.
"Collaboration between Cedars-Sinai and Jewish Family Service LA is vital as it combines our strengths and resources to enhance community care," said Jonathan Vickburg. "By working together, we can provide comprehensive support, addressing health needs holistically and maximizing the positive impact on the community we serve."
Cedars-Sinai partners with JFSLA's Arts, Wellness, and Engagement (AWE) Program to offer evidence-based classes to promote the health and well-being of older adults. Throughout the year, about 200 evidence-based classes were offered to clients virtually and in person with an average attendance of 20 participants in each class. Cedars-Sinai refers their older adult clients to JFSLA's evidence-based classes which helps the AWE Program raise awareness of JFSLA's overall services and programs.
JFSLA also partners with Cedars-Sinai for special events. In September, the AWE Program partnered with Cedars-Sinai for Falls Prevention Month to host presentations and increase awareness around injury prevention. In the last few years, Cedars-Sinai has provided speakers for the AWE Program's health presentations and classes.
"Our partnership with Cedars-Sinai helps us host special health events such as health presentations, lectures, and health fairs," said Kimiko Kelly, JFSLA Director of the Arts, Wellness, and Engagement (AWE) Program. "This health fair not only provided great resources to the community but helped us attract new members to come through our doors and learn more about the services and programs JFSLA offers."
For more information on the JFSLA Arts, Wellness, and Engagement (AWE) Program, please visit jfsla.org/AWEProgram.