Jewish Family Service LA Begins Reopening of Multipurpose and Senior Centers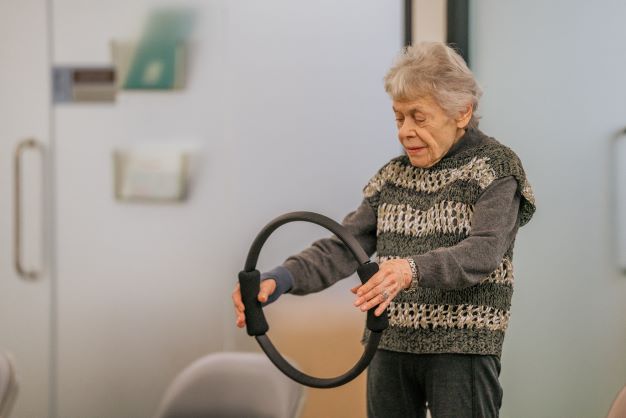 After more than two years of closures due to the pandemic, JFS is proud to announce the reopening of the Jona Goldrich Multipurpose Center (previously known as the Freda Mohr Center). The Jona Goldrich Multipurpose Center, which is housed in the JFS Gunther-Hirsh Family Center located on Fairfax Avenue, began offering in-person services on April 25th and is reopening in phases. During the first phase, services offered include in-person intake hours for social services, Fitness Center access, in-person fitness classes, and Computer Lab access. These services will be conducted by appointment only and with limited hours.
"When I visited the Fitness Center on the day we reopened, I was greeted by several former Freda Mohr members who shared how wonderful it was to be back in this beautiful new building and have the opportunity to exercise and socialize with their peers," said Susan Belgrade, JFS Senior Director of Multipurpose and Senior Centers.
An attendee on opening day also noted, "After being isolated for over two years because of Covid, it feels like we are moving towards a more normal daily routine. I can't wait to join the exercise classes and participate in the computer lab trainings."
The JFS Valley Storefront Senior Center, located in North Hollywood, is also open and expanding activities and on-site services, including the use of the senior Fitness Center and the library, and access to on-site social workers for clients of our Survivors of the Holocaust Program.
Renee, a Valley Storefront Fitness Center client said, "I am so happy the gym is open again. I love coming to use the equipment and see the friendly staff!"
To return to the multipurpose and senior centers, clients and guests must provide ID, proof of COVID-19 vaccination or a negative PCR test taken within 48 hours or a negative antigen test taken within 24 hours. They must also complete a daily health questionnaire and always wear a face mask when on site.
"For many of our older adult clients, the loneliness and isolation of the past two years has been devastating," stated JFS President and CEO Eli Veitzer. "For them, the opportunity to see friends again and to be with other people at the senior centers is precious. We hope to be able to provide that gift soon at all our senior centers."
As of April 25th, only the Jona Goldrich Multipurpose Center and the JFS Valley Storefront Senior Centers are open. We hope to open the rest soon and will share information about that as soon as it's available.
To learn more about our Senior Services, please visit www.jfsla.org/our-services/aging
---
For appointments to see a Social Worker at Jona Goldrich MPC, please contact 323-937-5900 or jonagoldrichmc@jfsla.org
To RSVP for Activities at Jona Goldrich MPC, please contact Danny Vasquez at dvasquez@jfsla.org or 213-248-8519
---
For appointments to see a Social Worker at VSF, please contact 818-984-1380
To RSVP for Activities at VSF, please contact Christine Tafralian at ctafralian@jfsla.org or 213-248-7615