Terry Shajirat Honored with the 2023 Lovedy Brydon Differently Abled Individual Award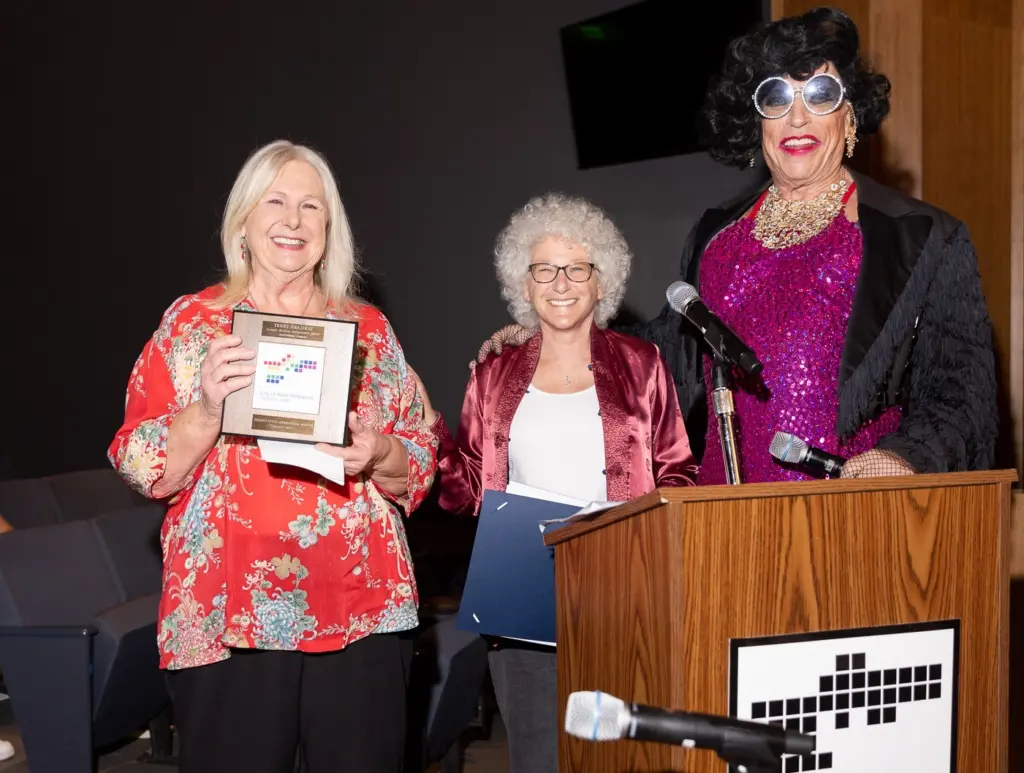 On October 18, the West Hollywood Disability Advisory Board awarded Terry Shajirat, a JFSLA social worker, with the 2023 Lovedy Brydon Differently Abled Individual Award for her long career in improving the lives of seniors and people with disabilities. The West Hollywood Disability Advisory Board addresses disability-related issues and offers recommendations to the City Council on policies and programs for people with disabilities.
Terry has been a social worker for more than 40 years. Her career at JFSLA began with the Family Friends Project, a former JFSLA program which paired volunteers with children and teenagers with disabilities and chronic illnesses to offer emotional, social, and practical assistance. For the last decade, Terry has worked as the program coordinator for JFSLA's Connect program, operated in collaboration with the City of West Hollywood at the West Hollywood Comprehensive Service Center. Connect is a volunteer transportation and companionship program. Terry connects volunteers to adults with disabilities and seniors to provide them with practical support and companionship through activities like grocery shopping, banking, and leisurely outings. Connect provides specialized training, matching, and on-going supervision for volunteers interested in connecting with adults with disabilities and seniors.
"Terry goes above and beyond in her role as Connect program coordinator. She pours her heart and soul into her work," said Marina Berkman, JFSLA Program Director at the West Hollywood Comprehensive Service Center. "Most of the volunteers are younger working people, and they rarely have time during a workweek to meet their potential matches for the first time, something that Terry always facilitates. If a new volunteer is only available during the weekends, Terry does not hesitate to schedule a home visit on a Sunday and be there with the participant of the program and the new volunteer. This shows Terry's dedication to her program and her unwavering commitment to its success." One of the Disability Advisory Board members who personally benefited from the Connect Program nominated Terry for the award.
"Receiving this unexpected award is a highlight of my professional and personal life," said Terry. "In times which separation, negativity and loss can feel like a part of everyday life, I believe the people and program model of Connect represent a different story. People of all ages and backgrounds can build bridges together; connecting, creating community, having fun, and supporting one another."
In the last year, the West Hollywood Comprehensive Service Center provided services, advocacy, assistance with benefits, supportive counseling, and case management to over 1000 people living with disabilities. "We are very proud of being recognized by the Disability Advisory Board for 2 years in a row," said Marina. "It's a big honor and a confirmation that we are doing something much needed by the West Hollywood community."
If you are interested in volunteering or for more information about the Connect program, please contact Terry Shajirat at 323-851-8202. Volunteers must be over 21. Volunteers who are bilingual in English and Russian are greatly needed.