Jewish Family Service LA to Provide Special Passover Programs and Services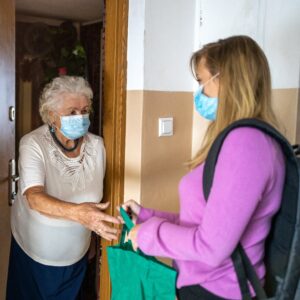 As Passover approaches, Jewish Family Service LA will be providing special programs and services for people across the community.
The JFS SOVA Community Food & Resource Program is having a Passover Food Drive and will be hosting a Passover food distribution event on Friday, April 8th at both the Pico/Robertson and Van Nuys pantries. The distribution will be set up in a farmer's market style so clients can pick and choose what they need.
"We work hard to source traditional items and fresh produce for those that celebrate this special holiday," said Tiffany Sgueglia, JFS Director of the SOVA Community Food & Resource Program. "Many people come to us for support in obtaining the meaningful items that they might have otherwise gone without. A lot of these items are expensive, and we always want to make sure they have the appropriate level of kosher certification for Passover, so we often buy these items out of our food budget."
JFS's Senior Nutrition Services program will be providing approximately 550 senior clients with Kosher for Passover meals from April 15th-23rd through home delivery or at Grab N' Go meal sites. Seder plates will also be provided to clients upon request.
"The Senior Nutrition Program ensures that all senior clients observing Passover can rely on homemade and nutritious meals prepared in a strictly Kosher for Passover kitchen. The kitchen is made Kosher for Passover every year by two experienced RCC mashgiachs who diligently kosher the kitchen with torches and kettles of boiling water," said Siri Perlman, JFS Director of Senior Nutrition Services. "Chef Hugo and his team order and prepare all the necessary Passover ingredients for the special meals and seder plates. These include matzo meal for matzo ball soup, farfel for pilaf side dishes, and apples with walnuts for charoset. Many of our clients express that the meals are especially meaningful to them because they serve as a reminder of home and family from days long ago."
JFS's Café Europa, JFS's social program for survivors of the Holocaust, will be hosting in-person and virtual Passover seders, led by a rabbi, at the JFS Gunther-Hirsh Family Center and Valley Store Front locations.
"Passover is a holiday filled with traditions that survivors of the Holocaust have practiced all their lives. It is important for those of us who work with survivors of the Holocaust to give them the opportunity to continue those traditions with their friends. This is another way for survivors to feel connected to their community, so they feel less isolated and lonely," said Heather Angel-Collin, JFS Director of Survivors of the Holocaust Program and Valley Storefront Senior Center.
These special Passover services are made possible by the generosity of our donors. You can contribute to these meaningful efforts by clicking here.