JFSLA to Distribute Thanksgiving Meals and Groceries to Over 1,000 Families and 900 Seniors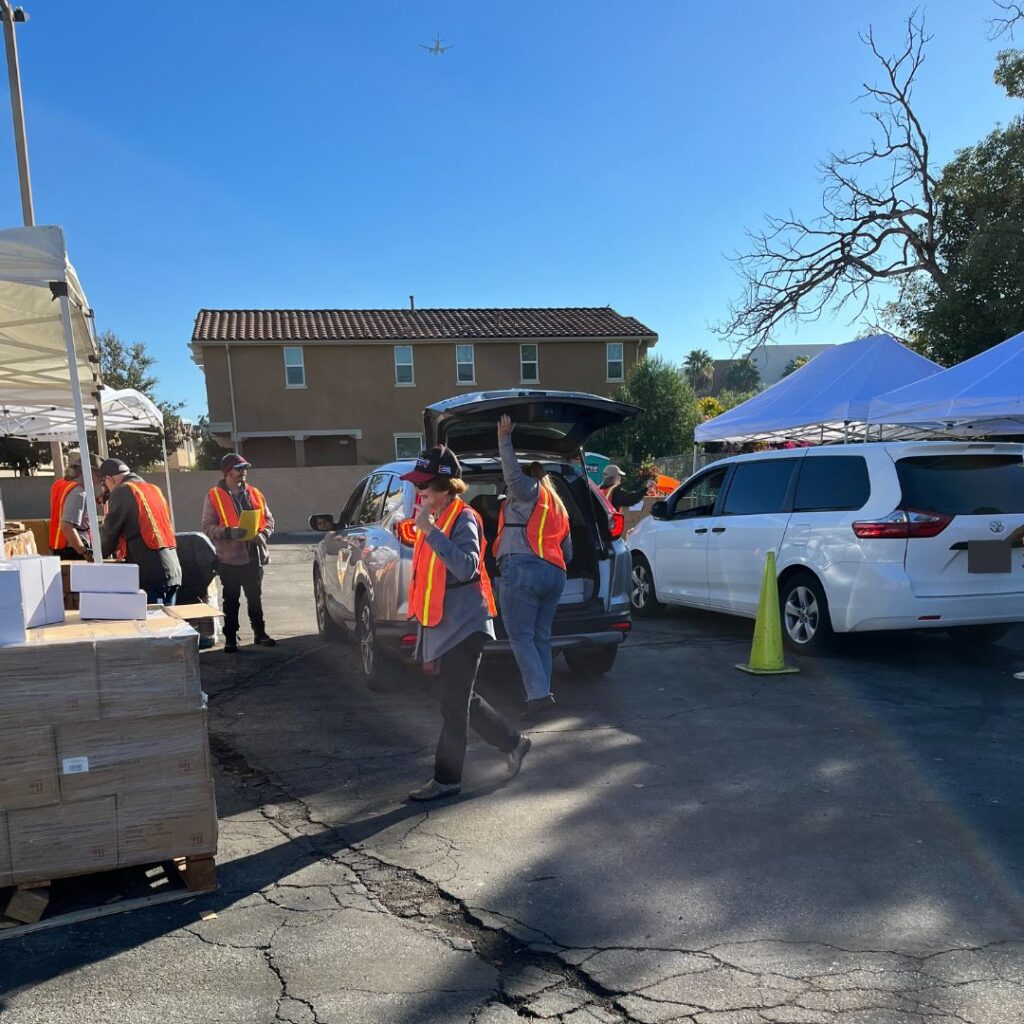 On Friday, the JFS SOVA Community Food & Resource Program hosted its annual Thanksgiving distribution, providing Thanksgiving staples to more than 1,000 families across Los Angeles. On Wednesday, JFSLA's Senior Nutrition Program will be serving and distributing Thanksgiving meals to over 900 seniors and homebound clients throughout LA.
"Our impact is especially profound during the holiday season," said Brittany Nazarian, Director of the JFS SOVA Community Food and Resource Program. "Thanksgiving holds a special place in our hearts, as we have the privilege of enhancing the holiday experience for families by offering essential groceries and allowing them to savor a meaningful meal together without the burden of added financial strain. It's not just food we provide to our clients, we offer them the opportunity to create lasting memories and celebrate with their loved ones."
More than 30 JFSLA volunteers prepared and distributed grocery bags. Each client received turkey, stuffing, mashed potatoes, sweet potatoes, onions, celery, cranberry sauce, gravy, pumpkin puree, green beans, corn muffins, and raisins.
The tireless efforts of JFSLA's Senior Nutrition Program's staff will ensure that homebound clients receive a warm and hearty Thanksgiving meal right at their doorstep, as well at JFSLA's senior dining centers located throughout Los Angeles. The dedicated team at the JFS Hirsh Family Kosher Kitchen is working tirelessly crafting delicious meals that feature roasted turkey with gravy, raisin pineapple yams, green beans almondine, baby greens salad with citrus dressing, cranberry sauce, and fresh rolls. JFSLA volunteers, including members of JFSLA's Board of Directors, will assist in driving and delivering meals to homebound clients.
"Special holiday food served by the JFSLA family reminds seniors and homebound clients that they are not alone and that our community cares," said Siri Perlman, Director of JFSLA's Senior Nutrition Services. "We express our gratitude to the dedicated volunteers who, year after year, generously devote their time to delivering or serving Thanksgiving meals to seniors. This act of kindness holds so much meaning for both the clients and the volunteers involved."
If you would like to support JFSLA's Food Insecurity and Hunger services, please visit support.jfsla.org. To learn more about JFSLA's Food and Hunger programs, please visit jfsla.org/foodinsecurity. For more information about participating in the Senior Meal Program, please call 323-937-5843.