JFSLA Installs New Board Members and Officers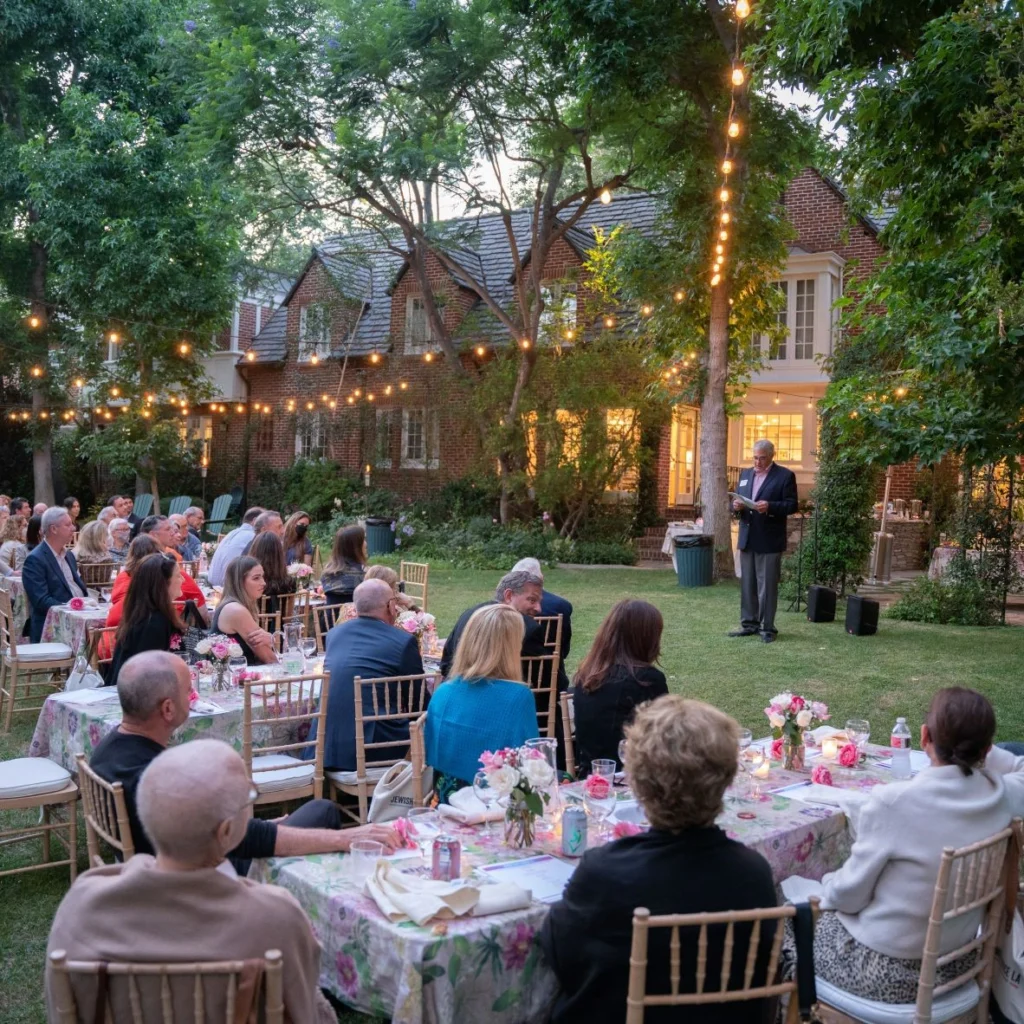 Last week, JFSLA installed the new and returning officers and members of its Board of Directors at an event held at the home of Shana Passman, a long-time board member and past Board Chair.
The evening began by honoring Nina Tassler, who has served as Board Chair since 2019. At the helm of the agency through the COVID-19 pandemic, Nina's inspired leadership helped the agency adapt and innovate through one of the most challenging times in JFSLA's 168-year history.
"These past few years, we have witnessed and experienced a unique and unprecedented series of challenges and events," said Nina. "Through the culmination of efforts and hard work of JFS staff, leadership, and volunteers, we remained a beacon of hope and stability for the most vulnerable in our community. Jewish Family Service LA met the moment."
Rabbi Steve Leder, Senior Rabbi at the Wilshire Boulevard Temple and one of the nation's most influential rabbis, delivered the keynote speech and oversaw the installation of Board members and officers. Among the installed were several new members of the Board: Michael Gendler, Monique Maas Gibbons, Rachael Kallick, Georgette Morrow, and Dustin Rosen.
Rabbi Leder then installed the 2022-2024 slate of Board officers: Tami Stapf as Vice Chair of Resource Development, Andrea Rothschild as Vice Chair of Programs, David Hirsch as Treasurer, and Doreen Klee as Secretary.
Rabbi Leder concluded by installing his friend and congregant, Randy Magnin, as the JFSLA Board Chair. Randy began by honoring Nina Tassler. "You lead by example in everything you do," he said. "I am in constant awe of your empathy, kindness, and your spirit of mitzvot [good deeds]. Nina does not just talk the talk, she walks the walk."
Randy celebrated JFSLA's history of strength and success while acknowledging that more crises would inevitably arise.
"For 168 years, JFSLA has shown its resilience by responding to crisis after crisis," he said. "For 168 years, JFSLA has shown its resilience by continually growing and expanding its programing to serve the most vulnerable in our community. For the last almost three years, JFSLA has shown its resilience by continuing to serve our community throughout the unprecedented COVID-19 pandemic. Now, just when things are inching back towards normal and you think and hope it might get easier, it's a certainty that new and difficult struggles will again present themselves. It is our compelling mission and our long history that I know without a shadow of a doubt that together, we will continue to be resilient."
Randy ended the night by saying, "We will weather the storms ahead of us just as we did the previous ones, with grace, perseverance, and commitment to service. I am beyond honored to be the new Board Chair. I believe in this organization, I believe in our mission, and most of all, I believe in all of you."