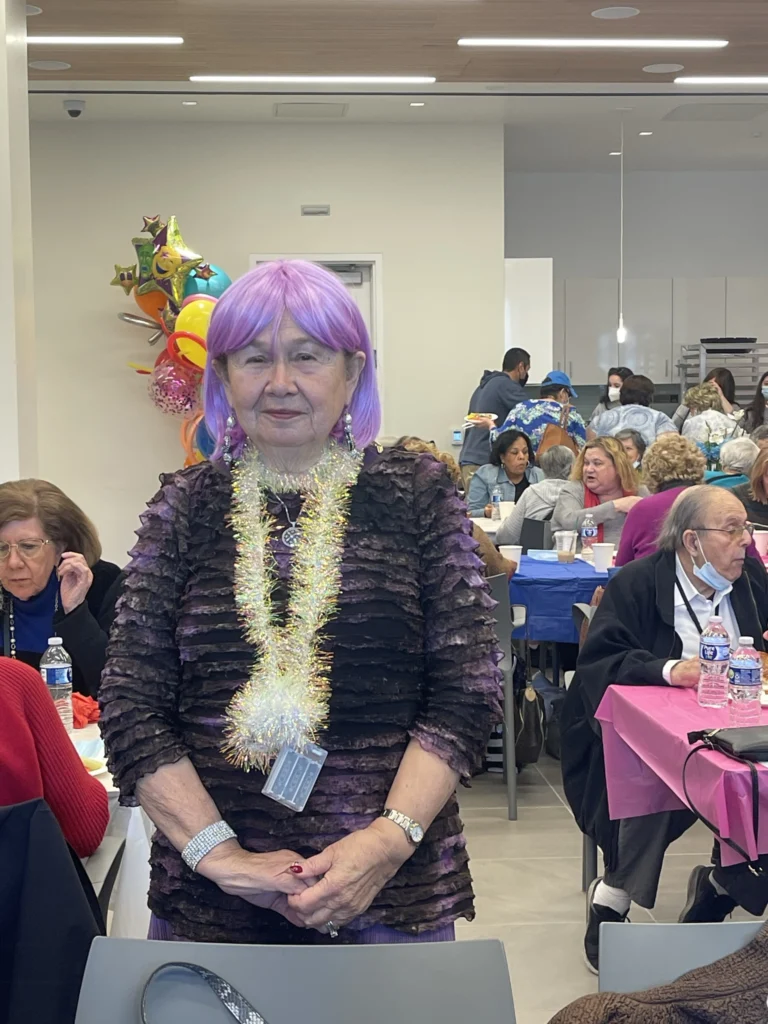 Throughout the week of March 6th, members of Café Europa, JFSLA's social group for survivors of the Holocaust and participants from the Arts, Wellness, and Engagement (AWE) Program enjoyed Purim festivities at JFSLA's senior and multipurpose centers.
Purim is one of the most joyous holidays on the Jewish calendar. It commemorates the events told in the Book of Esther of how Queen Esther saved the Jewish people from extermination. Café Europa celebrated by sharing the story of Esther, wearing costumes, dancing, receiving goodie bags from the students at Hershel Day School in the Valley, and eating freshly baked hamantaschen from the Hirsh Family Kosher Kitchen.
"Through the celebration of Purim, Café Europa members had an opportunity to celebrate their own survival, strength, and resilience as there is a parallel between the story of Esther and the experiences they endured during the Holocaust," said Susan Belgrade, JFSLA Senior Director of Multipurpose and Senior Centers. "Despite the royal decree by King Achashverosh to exterminate the entire Jewish population, the story of Purim celebrates the survival of the Jewish People in ancient Persia."
A puppeteer acted out the story of Purim with traditional puppets that were brought from Iran. "Although the tone of the celebration is lighthearted, it reminds us of the ongoing antisemitism we have endured throughout our history and our survival as a nation," said Susan.
Throughout the week, JFSLA's AWE program provided similar festivities for clients at several JFSLA senior and multipurpose centers, including costume parties, a Purim play, and a Shabbat Purim party. "It is such a special gift that we can provide survivors of the Holocaust and our greater community with a comfortable, warm, and supportive atmosphere filled with engaging activities," said Kimiko Kelly, Director of the AWE Program. "To see them smile and dance is the most joyful thing in the world."
To learn more about services for older adults, please visit jfsla.org/aging. Don't forget to check out our social media pages!