JFSLA at West Hollywood Comprehensive Service Center Recognized for Disability Program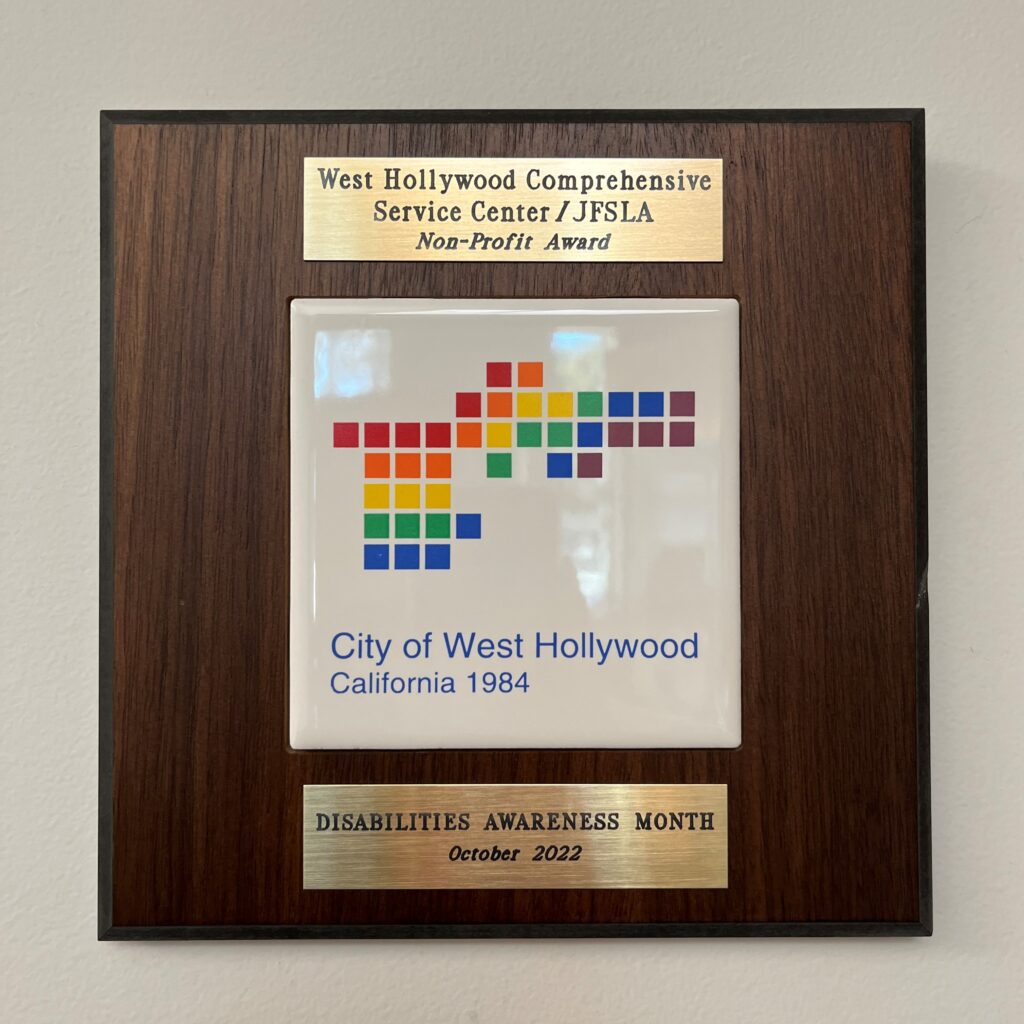 On October 26th, the West Hollywood Disability Advisory Board presented its Nonprofit Award to JFSLA's programs at the West Hollywood Comprehensive Service Center (WHCSC). The award, presented by West Hollywood's Mayor Pro Tempore, Sepi Shyne, recognizes JFSLA's exceptional services provided to people with special needs and diverse abilities. 
During the online award presentation, Mayor Pro Tempore Shyne stated, "In this program, clients can receive an abundance of support, including referral to community resources, home installation of assistive devices, ongoing case management, and in-home care. We thank them [JFSLA] for continuing to be a compassionate resource for community members with disabilities."
In the last year, JFSLA at the WHCSC provided multiple services to 84 disabled adults aged 18 and older.
"It was a great honor for us to receive this award. It means that the community members recognize the services they receive, and they are very grateful for them," said Marina Berkman, JFSLA Program Director of the WHCSC.
Through the collaboration between WHCSC's disability specialists and social workers, clients receive services such as assistance with public benefits, referrals to community resources, translation services, form completion assistance, and other requested services.
Clients who require more in-depth assistance are enrolled into an on-going case management program where a disability specialist conducts a psychosocial assessment of the client's needs to develop a care plan detailing the goals and interventions. Depending on the client's needs, services could range from in-home care, cleaning assistance, emergency financial assistance, homeless prevention services for individuals living with hoarding disorder, and more. JFSLA also provides a Home Secure Program which updates clients' homes with devices such as bathroom grab bars, raised toilet seats, smoke and carbon monoxide detectors, and other items to make clients safer at home.
After providing remote assistance to clients during the pandemic, JFSLA's services at the WHCSC are now open for in-person appointments. Staff are eagerly reaching out to community members and inviting them in to see a disability specialist and social workers who provide services to older adults.
"This category of people who are 18 and older and live with health challenges is underserved and faces on-going obstacles finding available services," said Marina. "Thanks to the generosity and inclusivity of the City of West Hollywood, we are able to make a difference in the lives of individuals living with disabilities."
The West Hollywood Comprehensive Service Center, located at 7377 Santa Monica Blvd., offers services to West Hollywood community members aged 55+ and disabled adults aged 18 and older. Services include case management, information on governmental benefits, client advocacy, health and wellness activities, and other services and programs.
For more information on disability services, please call the West Hollywood Comprehensive Service Center at 323-851-8202 and ask to see a Disability Specialist. For more information on the West Hollywood Comprehensive Service Center, visit www.jfsla.org/senior-and-multipurpose-centers/whcsc/.