JFS SOVA Opens Pop-Up Pantry to Provide Fresh and Healthy Food to the Unhoused Community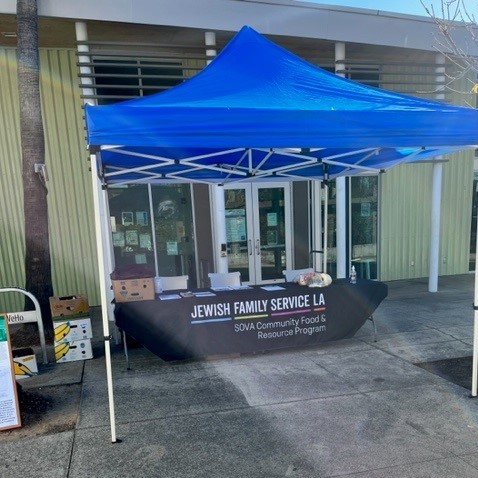 The JFS SOVA Community Food & Resource Program (JFS SOVA) has opened a pop-up pantry to distribute healthy groceries to individuals experiencing homelessness in West Hollywood. The pop-up pantry is open every Tuesday from 10 a.m. to noon and is located in Plummer Park near the West Hollywood Comprehensive Service Center.
"An unhoused individual might be less likely to hear about our SOVA pantries or may not have the tools or transportation to get to the pantry," said Brittany Harper, Director of JFS SOVA. "By opening a pop-up in West Hollywood, we can eliminate some of those barriers and provide services to this underserved population. It is important for us to meet these clients where they are located because it is our mission to serve everyone in the Los Angeles community."
The pop-up pantry serves food such as fresh salads, sandwiches, fruits, vegetables, crackers, and more. In addition, the pop-up is an opportunity to connect people in the area experiencing homelessness to the social services provided by Jewish Family Service LA at the West Hollywood Comprehensive Service Center and the City of West Hollywood.
"By opening the pop-up distribution in the morning, it is easier for us to interact with individuals still at the park, as they are waking up, and be able to provide them with a bag of toiletries, fresh produce, and groceries that don't need to be cooked or refrigerated," said Brittany. "The first day we opened, so many of our new members were very happy that we were there. Many came up to us several times throughout the couple of hours to let us know that they were receiving such great groceries and personal care items."
To learn more about JFSLA's Food and Hunger services, please visit jfsla.org/food-hunger. To learn more about volunteer opportunities at JFSLA, please visit jfsla.org/volunteer.