Finding Hope as a Volunteer at JFSLA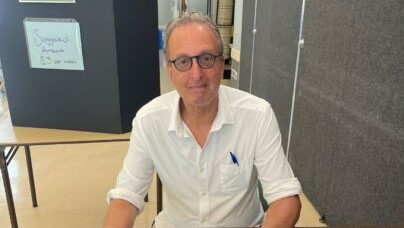 The pandemic has been hard on many retired seniors who were left isolated from their friends and family and without the daily structure that their previous careers provided. Many felt a loss of purpose. For Randall Kane, age 71, it was extremely difficult to be isolated from the world as he had also recently lost his wife and two closest friends.
"My circle of friends had dwindled down to one," said Kane. "Staring at the four walls, I became lonely."
Knowing that he needed social interaction and a meaningful routine, Kane searched for volunteer opportunities. After calling JFSLA and learning of the need for volunteers at the Senior Nutrition dining centers, which provide older adults with free lunches, he eagerly volunteered on the reopening day of the dining center at Plummer Park Community in West Hollywood.
"For people in our age group, it's a great experience when we all get to socialize with one another," said Kane. "I wish we could get the word out and get more people to come out."
Kane signed up to volunteer on Mondays and Wednesdays, helping clients fill out their intake forms. By the second week, he had committed to volunteering everyday Monday through Friday.
"If I could volunteer for six days, I would do it six days," he said.
Kane felt that the opportunity to be productive and socialize with others while helping the community was very beneficial for his overall wellness. As opposed to sleeping in, Kane now looks forward to waking up early and getting ready to help clients at the dining center.
'It turned out to be so much more than just making new friends," said Kane. "It's the feeling you get when you put in a good day's work. You can feel good about the work you've done. I think work is important, and although I'm not working full time, just feeling like I'm being productive for just a couple of hours helps me start my day."
The connections Kane makes with clients also keep him excited to volunteer his time. He has made new friends and is now on a first-name basis with most of the clients.
"After having lost my wife and my circle of friends, I had to carry on with my life in a new fashion, and this has really given me a new start," he said. "Thank you, JFSLA. Without knowing it, you have improved the quality of my life."
Kane encourages others in similar situations to search for volunteer opportunities that introduce them to new environments, help them meet new people, and make a positive difference in the lives of others.
"Losing my circle of friends prompted me to sort of turn things around and get back into enjoying life. Being around people and JFSLA was that spark," said Kane. "I knew it would be helpful but didn't realize it would be this wonderful."

To learn more about JFSLA volunteer opportunities, please visit jfsla.org/volunteer or contact Joyce Williams, Director of Volunteers and Training, at 323-556-2928 or jmwilliams@jfsla.org.