CA Governor Newsom Approves Major Funding for California Holocaust Survivor Assistance Program, Providing Millions of Dollars for Los Angeles Survivors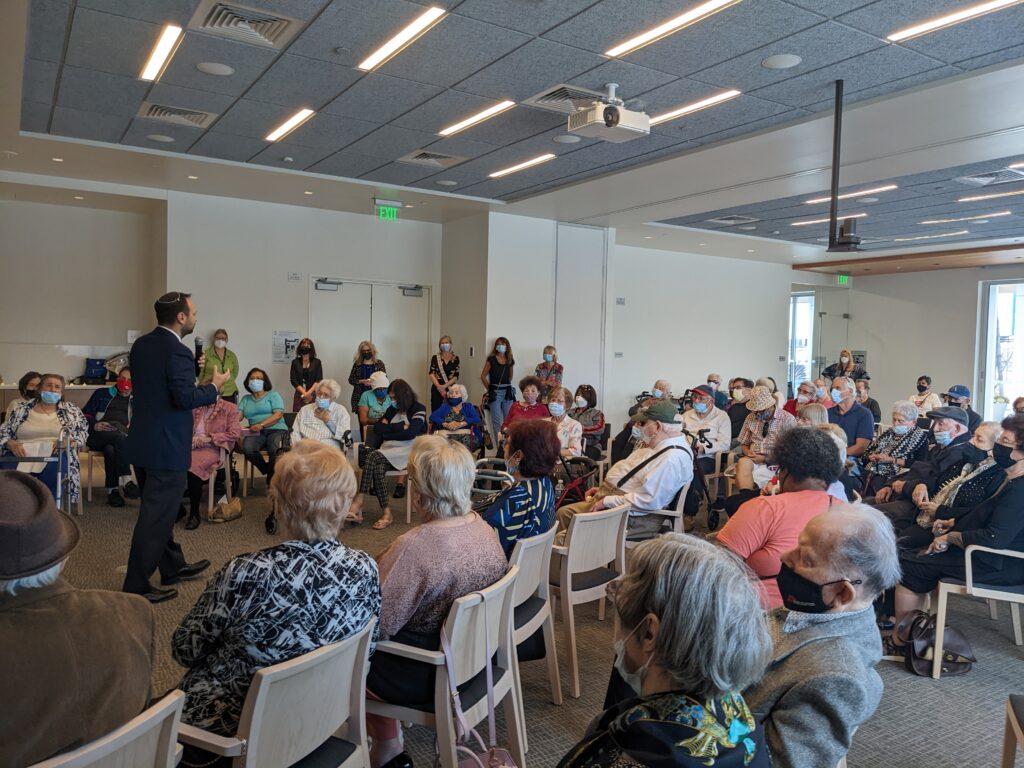 LOS ANGELES, Calif. (June 30, 2022) – Today, California Governor Gavin Newsom approved the 2022-23 State Budget which includes an unprecedented $36 million dollars in funding for the California Holocaust Survivor Assistance Program.
The California Holocaust Survivor Assistance Program (CHSAP) provides resources for five Jewish Family Service agencies – in Los Angeles, San Diego, San Francisco, East Bay, and Silicon Valley. Jewish Family Service LA (JFSLA) offers trauma-informed services including home care, culturally appropriate case management, home-delivered meals and groceries, transportation, and more to the aging Survivors of the Holocaust population in Los Angeles.
"We are deeply grateful to Governor Newsom and the State Legislature for providing this critical funding. As the last Survivors of the Holocaust reach extreme advanced age, their needs are increasing. Survivors of the Holocaust deserve to live with dignity and this much-needed funding will ensure that Survivors never face hunger, eviction, isolation, and despair again," stated Eli Veitzer, President & CEO of Jewish Family Service LA.
It is estimated that as many as 50% of Survivors living in Los Angeles live at or below the poverty line. Jewish Family Service LA currently provides comprehensive services to nearly 1,000 Survivors of the Holocaust. In addition to filling gaps in care for current clients, this new funding will allow JFSLA to provide services to over three hundred Survivors currently on a wait list for care.
The budget request was spearheaded by Jewish Family Service LA's Senior Director of Public Policy and Community Engagement, Nancy Volpert, upon learning of the large number of Survivors at JFSLA with significant unmet needs due to rising costs and a critical funding crisis. She connected with other Jewish Family Service agencies and the Jewish Public Affairs Committee of California and together they educated legislators and the Administration about the gaps in care.
"This year's budget surplus provided an unexpected opportunity to request funds for life-affirming care for Survivors with support from legislators who recognize the timeliness and need for these funds," said Nancy Volpert. "Having begun their lives in trauma, we all have a responsibility to ensure Survivors' lives are lived out respectfully and with the honor to which they are entitled. Many thanks to the Jewish Caucus and our many partners for resolving to meet the moment."
State Senator Henry Stern and the California Legislative Jewish Caucus, chaired by Assemblymember Jesse Gabriel, championed the request, working closely with Jewish Family Service advocates from across the state. Fortunately, Legislative and Budget leadership understood the challenging situation and included this request in their funding priorities.
"The Jewish Caucus is proud to champion these initiatives and grateful that legislative leadership has recognized the importance of Holocaust education and the need to take care of our most vulnerable Survivors," stated Assemblymember Jesse Gabriel. "We're also grateful to our many advocacy partners—including Jewish Family Service agencies—for supporting these efforts. Our partnership will ensure that our beloved Survivors can age with dignity and receive the services they need and deserve."
"I'm very thankful to Governor Newson for approving these funds and expediting the process to help provide much needed care for thousands of vulnerable Survivors. I'm also grateful to our Jewish Family Services, and legislative leadership for standing up for Survivors of the Holocaust who are facing indignities in California they never should have had to face again — from homelessness and hunger to isolation and despair," said State Senator Henry Stern.
Other resources for Survivors of the Holocaust across the state are funded by the Conference on Jewish Materials Claims Against Germany.
###
About Jewish Family Service LA
Jewish Family Service LA is a comprehensive network of supportive services for the people of Los Angeles. Each year, our compassionate staff improves the quality of life for tens of thousands of people throughout our city, regardless of age, economic status, religion, ethnicity, nationality, sexual orientation, or gender identity. JFS staff and volunteers feed families, provide LA's aging population with life-changing care, empower and shelter survivors of domestic violence and their children, treat mental illness, offer counseling to at-risk children and their families, and more. (www.jfsla.org)