CA Attorney General Rob Bonta Visits JFS SOVA Pantry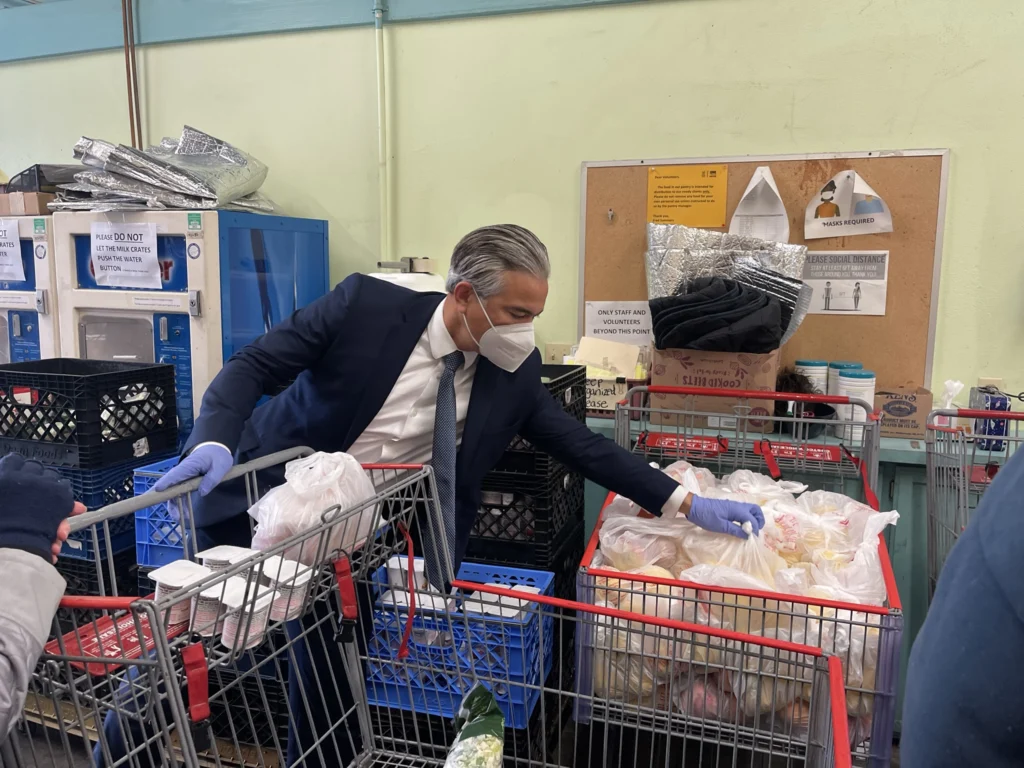 On March 14th, California State Attorney General Rob Bonta visited JFS SOVA to learn more about JFSLA's crucial work addressing hunger and food insecurity in the Los Angeles community.
"We were thrilled to welcome Attorney General Bonta to tour and participate in grocery pickup at our SOVA Valley food pantry. Our JFSLA advocacy team prioritizes building strong relationships with elected officials across the state to ensure we can provide safety net services," said Nancy Volpert, JFSLA Senior Director of Public Policy and Community Engagement. "It's thanks to these strong relationships that we were able to secure the funding to purchase the site where SOVA is housed. These visits allow our elected leaders to see firsthand the impact that our programs are having on our clients, so they know the real value of what they're fighting for in Sacramento."
Attorney General Bonta met with Randy Magnin, JFSLA Board Chair; JFSLA Board Members Michael Gendler, Monique Maas Gibbons, and Rachael Kallick; Eli Veitzer, JFSLA President and CEO; and Nancy Volpert. "Attorney General Bonta was particularly interested in our safety net services, like SOVA and our domestic violence services," said Eli Veitzer. "He was truly moved by the buzzing SOVA volunteer-led food distribution. I think that seeing the work of communities helping each other meant a lot to him."
The JFSLA group engaged the Attorney General in conversations about the impact of JFSLA programs and services in the Los Angeles community, took a tour of SOVA Valley, and discussed other crucial topics such as growing antisemitism. "Attorney General Bonta is involved in crafting legislation that affects our clients, so I was eager to help him learn about our agency and our advocacy for our clients," said Randy Magnin. "I also complimented Mr. Bonta on his legislative work around hate crimes and asked him what role he thought, if any, JFSLA could play in combating antisemitism. Mr. Bonta's answer was education. Education, he said, is one of the long-term keys to preventing hate crimes."
The State Attorney General also met various JFS SOVA staff and volunteers including Brittany Harper, Director of the JFS SOVA Community Food and Resource Program. Attorney General Bonta observed SOVA Valley's intake center, where clients are helped and had the opportunity to volunteer learning how to prepare grocery bags for clients, where he connected with pantry staff and volunteers.
"I was impressed that Attorney General Bonta took the time to truly understand what we do at JFS SOVA and how we want to further support the community," said Brittany Harper. "It was such an honor to demonstrate the importance of community-based programs and their impact to Angelenos."
For more information about our hunger and food insecurity programs, please visit jfsla.org/foodinsecurity. Follow our social media pages for more information about JFSLA events.